NueMD recently released findings from their April 2015 survey exploring small and mid-sized medical practices' attitudes towards the pending transition to ICD-10, a more granular disease and diagnosis classification system.
With the October implementation deadline fast approaching, NueMD surveyed 1,000 medical practice professionals and billers about their stress levels, areas of concern, the general sense of preparedness regarding switching to the new coding standards.
When asked how confident they are that their employees will be trained by the ICD-10 deadline, only 11.4% of survey respondents indicated feeling "highly confident," with the most common response being "Not at all confident" (35%).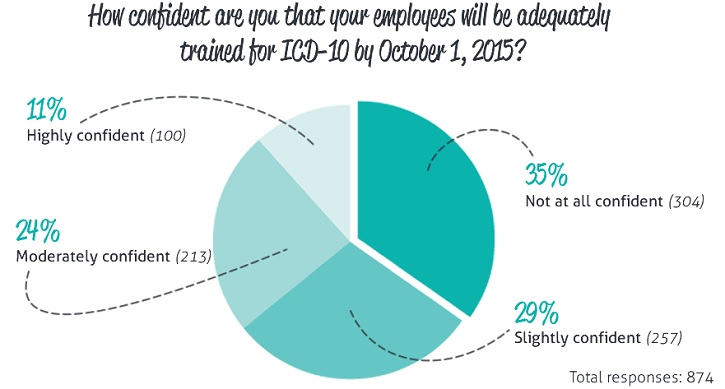 View NueMD's ICD-10 survey findings report to learn more about survey participants' attitudes, concerns, expectations and preparedness related to ICD-10 adoption.
About NueMD
NueMD is the leading provider of cloud-based medical practice management software for small practices. Powered by Nuesoft Technologies, Inc., NueMD offers practice management, electronic health record and medical billing software and services to help physicians maintain the clinical and financial well-being of their practice. For more information please visit www.nuemd.com.
http://porterresearch.com/wordpress/wp-content/uploads/2016/11/porter-logo-retina-300x100.png
0
0
Porter Research
http://porterresearch.com/wordpress/wp-content/uploads/2016/11/porter-logo-retina-300x100.png
Porter Research
2015-05-26 02:51:26
2017-06-06 17:58:36
Survey Gauges Medical Practices' Attitudes toward ICD-10