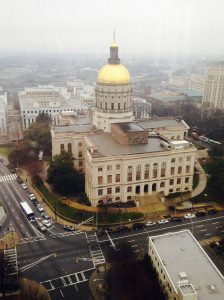 Georgia Lieutenant Governor Casey Cagle proclaimed February 24th as "Georgia HIT Day" at a state capitol gathering held earlier this week where local officials and healthcare technology firms convened to discuss the economic impact healthcare IT is having in the region.
Tag Health, in partnership with Georgia HIMSS and the Metro Atlanta Chamber, hosted speakers from local HIT companies McKesson Technology Solutions, HealthPort Technologies, and Navicure, Inc. for a panel discussion primarily focused on job opportunity the HIT market has brought to Georgia.
Recent HIT market research from the Institute for Healthcare Information Technology (IHIT) suggests that more than 4,700 healthcare IT jobs are available in the state of Georgia, but research participants report difficulties filling positions. Georgia HIT Day panelists pointed to a need for more individuals with cross-industry experience (i.e. provider, health plan, pharmacy, technology) to help build a qualified HIT workforce.
A noticeable portion of event attendees appeared to be professional students in local HIT continuing education programs interested in filling that workforce deficit, and actively seeking employment.
Porter Research President Cynthia Porter, who was involved in fielding the recent Georgia HIT workforce research and was in attendance at the event, observed an emphasis on HIT education needs. Porter elaborates: "There is some concern that job candidates in the region may be tempted to migrate to more fertile markets if Georgia's academic push for HIT advancement isn't coupled with increased business investment in the area."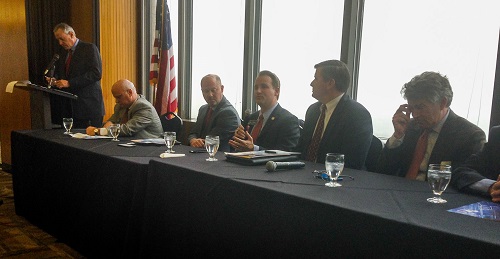 State officials and organizational representatives addressed the need to better brand the city's strengths in healthcare IT (including an educated workforce) to attract more venture funding to the Atlanta market. The city was presented with the HIStalk.com Reader's Choice Award for recently being voted the "Nation's Capital of Health IT" at Tuesday's event.
Porter Research Information Services Director David Himes, also on hand at the event, found promise in the state's collective approach to promoting Georgia HIT, observing that "As the state maneuvers to coordinate the education efforts to staff these jobs, a forum that brings healthcare IT firms, healthcare staffing and recruiting companies, and the Board of Regents to the table could yield promising results."
Local healthcare providers and HIT end-users were also in attendance and some aired concerns regarding HIT's impact on provider productivity. Other provider attendees championed patient safety as HIT's primary objective, while others voiced the need to bring a wider variety of HIT end-users (i.e. nurses) to the product development table.
To date, roughly two-thirds of Georgia hospitals have received funds for successfully demonstrating meaningful use of an Electronic Health Record (EHR) system as part of CMS's Medicare EHR Incentive Program. You can read more about Georgia healthcare benchmarks here.
http://porterresearch.com/wordpress/wp-content/uploads/2016/11/porter-logo-retina-300x100.png
0
0
Jessica Clifton, Marketing Director, and David Himes, Information Services Director
http://porterresearch.com/wordpress/wp-content/uploads/2016/11/porter-logo-retina-300x100.png
Jessica Clifton, Marketing Director, and David Himes, Information Services Director
2015-02-26 03:00:07
2016-11-08 03:03:40
Education, Funding on HIT Industry Stakeholders' Minds at First Annual Georgia HIT Day