The Institute for Healthcare Information Technology (IHIT) commissioned Porter Research to conduct a study to get insight from Georgia hospitals and healthcare systems about IT workforce readiness and their unique challenges related to IT job fulfillment.  This most recent study continues to build onto the research performed in 2014:  Georgia Healthcare IT Workforce Readiness Survey and Georgia Healthcare IT & Education Working Together.
This year's study included reaching out to more than 3,000 key professionals employed at healthcare providers located throughout the State of Georgia to participate in an online survey.  Participants — mainly comprised of C-level executives, administrators/directors and managers — had the opportunity to share information about their organization's IT budgetary spending & priorities, as well as about their current and future job fulfillment needs, the required education and skills that are sought after, and their job recruitment strategies and challenges.
A couple of the key survey findings include:
•   More than 80% of respondents stated their IT budget will increase over the next five years, with the top priority areas for IT spending being:
– Electronic Medical Records (EMRs)
– Cyber Security
– Medical Device Integration
•   72% of survey participants stated they have up to 50 healthcare IT jobs currently open.  And the overwhelming majority (94%) indicated that they expect to have healthcare IT jobs available in the next one to five years.
•   The most mentioned jobs that are expected to be difficult to fill over the next five years were:
– Informatics
– Security
– Clinical
•   In response to, "How confident are you that your organization will be able to fill your healthcare IT jobs over the next five years?"  Here are the perceptions of the surveyed hospitals and healthcare systems…
Confidence of Filling IT Jobs in Future
42% of respondents have doubts that they will be able to fill these
projected IT positions over the next five years..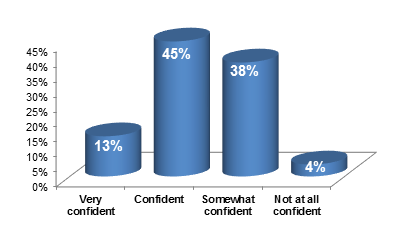 The surveyed hospitals and healthcare systems also had the chance to submit any recommendations that they had about changes the education systems in Georgia need to implement to improve training for the healthcare IT workforce.  To find out what the top workforce recommendations were and to review the complete survey findings, look for the
Georgia Healthcare IT Workforce Needs for Healthcare Providers
whitepaper that will be available soon on the IHIT website at
www.InstituteforHealthcareIT.org
http://porterresearch.com/wordpress/wp-content/uploads/2016/11/porter-logo-retina-300x100.png
0
0
Porter Research
http://porterresearch.com/wordpress/wp-content/uploads/2016/11/porter-logo-retina-300x100.png
Porter Research
2015-11-29 01:44:00
2017-06-06 17:57:52
HIT Workforce Needs for Georgia Hospitals, Healthcare Systems